Day 11 – Ten Nights Out That Don't Involve Booze
So, you've decided to pack in the booze for the month. And, you've pretty much resigned yourself to spending weekend nights at home, hiding away from the call of after work drinks, and shuffling quickly past your local, am I right? Wrong! Dropping the booze means you can enjoy some quality time with mates, and still get up the next morning with a clear head. Win, Win, Win.
It's no mean feat though. If most nights out have involved you and your favourite social lubricant for more years than you're willing to admit, then maybe the very concept of socialising without booze can seem somewhat intimidating… You're not alone in this. Many people say that one of the obstacles to them not cutting back or stopping is thinking that life will become a little, well…dull. But we're here to tell you that it's absolutely not! Cutting out booze doesn't mean you are no longer the fun loving social being that you are, but it might mean getting more creative with what you want to do with your time. Below we've compiled a list of some of our favourite things to do that don't involve booze. (Sorry-not-sorry, we did try to not talk about running but…)
1. Alternative Cinemas
I've only recently re-embraced movie going. Mostly because for years, I found that cinemas were overpriced chains showing only the latest Hollywood blockbusters and little else. But maybe I'm being a little harsh.
There are some incredible independent cinemas as well as quirky venues, creating original ways of settling down and watching some new releases and old classics. I recently went to the London Underground Cinema and watched Some Like It Hot in a disused Charing Cross Station. So, not only a fascinating place to curl up and watch a film in, but in compliance with Transport for London standards, it was completely 100% alcohol-free.
Watching a film is one of the best places to turn the attention away from alcohol (it's obviously all about the popcorn). Visit the Independent Cinema Office to find a quirky and charming independent cinema you've never visited before near you. We recommend the Regent Street Cinema in London, and The Electric in Birmingham, the UK's oldest working cinema, with many places worth a trip across the country. If you're feeling more adventurous, why not book yourself into a Drive-in Cinema in Liverpool and Manchester or the Alfresco Pillow Cinema in London.
2. Do a Fitness Rave
How many times have you gone out, spent hours on the dancefloor, before bleary-eyed congratulating yourself on the night bus home that that DEFINITELY counts as a workout? Yeah, same. Except, I didn't feel so fresh the next day, and I'm pretty sure all the chips I ate as a reward when getting home undid all of that hard work, and why is there a block of cheese in bed with me? Never mind the calories in my drinks…
There's nothing like snaking your way into a dance floor and letting loose, but that can sometimes seem pretty impossible without the help of your buddies Jack and Dan. However, there are increasingly nights out all over the country popping up bringing the workout experience to the club. In London, you can find Black and Light Yoga, where you can get your practice on covered in bright fitness kit and UV paint, all under some psychedelic lighting and the type of tunes that would have typically kept you glued to the dancefloor. If you're more into shaking your hips rather than vinyasa, Clubbercise run nationwide Zumba-style classes – set to classic club music, complete with disco lights and glow sticks. Alternatively, Google led me to Boogie Bounce which is a complete exercise programme on a mini trampoline, choreographed to chart topping music. I'm not gonna lie, I watched the video and it looks like insane fun…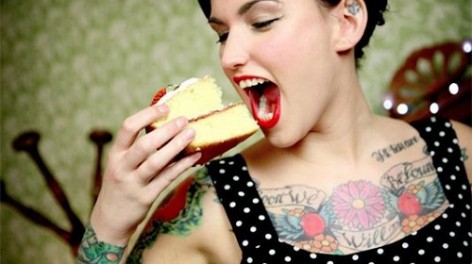 3. Get Caffeinated
So, this last suggestion might not help with falling asleep, but it is reminiscent of mediterranean evening cafes, sipping on an espresso and therefore I'll take it. There's plenty of late night coffee shops to choose from. My favourite (being a Londoner) is sitting in Soho watching the evening world go by at Bar Italia which has been run by the same italian family since 1949. They don't sell booze, and instead you'll find quality coffee and pizzas, served from 7am to 5am every day. Still in London, head over to Sacred at various locations, open till 8pm.
In Manchester, Sugar Junction serves a huge variety of teas, freshly baked cakes and home cooked food in their beautiful vintage tea room until 11.45pm, and in Nottingham, head to Copper Cafe to feast on cakes and afternoon teas until 9pm. Maybe find a hobby to burn out that energy when you can't sleep later though? Like knitting. I'd like a new scarf please.
4. Discover Mocktails and 0% beers
Just because you're dropping the booze it doesn't mean you're just limited to drinking lime & soda or pints of coke with a straw, a throwback to our teenage heyday. Instead, go out there and try some mocktails! First thing, they'll be cheaper, but will still be firing up your taste buds. In fact, don't avoid some of the best cocktail bars around, because they will be the ones that know a thing or two about combining tastes. Some great places to check out are London's Marks Bar and The Nightjar, Glasgow's Blue Dog and Birmingham's Ginger's Bar.
Or if you are in London, why not come to our our 0% beer tasting or Posh Pop Tasting evenings (more details here).
5. Get Your Kit On
I was going to try and not mention running, to stay away from the re-hashed idea that once you stop drinking you start running. But as a runner, it wasn't going to happen. If you have decided to cut down, stop for a bit, or quit more long term, picking up a sport is a great way to balance out your newly acquired energy, channeling it to a healthier mindframe, as well as shed the superfluous weight gained from booze. Running is the easiest and cheapest way of getting into a sport, all you need are a pair of shoes and some old clothes, and walk out your front door. Sure, it might take some motivation to get out of bed, or to slog it out in the rain.
If you need the motivation though, there are plenty of free running clubs. Nike, Sweaty Betty and Sweatshop all have countrywide running sessions starting and ending at your closest store, set at different paces. You just show up and get pounding or plodding.
And if that's not enough, you can even combine running in company with doing good deeds: GoodGym has local groups across the UK.
6. Night Riding
This might just be a London relevant plug, but I'm pretty sure you can find many equivalent events all around the country. But if you live or are ever in the city, Critical Mass organise evening cycle rides from the South Bank on the last Friday of every month, kicking off at 6:30pm. Often described as an 'unorganised coincidence', Critical Mass happens when a lot of cyclists happen to be at the same time at the same place, and decide to cycle the same way together for a while. It's neither an organisation or group but an idea, allowing people to reclaim the cities with their bikes, just by being together and outnumbering cars! Each cycle is different, with no set route and with direction decided on spontaneity. Anyone is free to join or leave as they wish.
7. Morning Gloryville
Start early, rather than making it a late one. Morning Gloryville have been taking the world by storm, with several dotted around the country, for example in London and Leeds. Touted as an immersive morning dance, they are the pioneers of sober morning raving, and are responsible for bringing conscious clubbing to the world. Kicking off at 6.30am (and going on until 10.30am), Morning Gloryville is a unique, inspiring, energising and heart opening way to begin the day, and includes free massages, organic coffee and smoothie bars and morning yoga.
8. Unwind in a Board Game Cafe
Board games are no longer limited to Sunday afternoons or intense family get-togethers. Getting competitive over a round of Monopoly or Connect Four is just as fun as mingling at a bar – and you're not shouting over thumping music. If you're in London head to Draughts in Haggerston where you're likely to find a queue on Friday and Saturday nights, or Ziferblat in Old Street or Manchester! You will find alcohol at most adult game board spots, but with the focus away from drinking and instead on kicking your competitors' – I mean, friends' – butt, you don't need a drop to have a good time. Find a board game café near you: UK's best board game cafes and bars.
9. Explore Meetup
Meetup is a hotbed of quirky, unique and fun things to do. Type in sober activity and it's teeming with amazing things. For instance, find a life drawing class near you, or join a book club, or a knitting group. Seriously, the options are endless, and you can change your town and distance as appropriate, which means you can take this directory with you and you're bound to find something of interest anywhere you go! It costs nothing to sign up, and a lot of the meetup events are free to attend.
10. Go to a Dry Bar
We've mentioned mocktails above, but have you ever been to a bar entirely dedicated to the mocktail? It looks like a bar, feels like a bar, but the drinks will definitely not be giving you a pounding headache the next morning. And dry bars are really exciting spaces, popping up around the country, providing the same sociability as a pub or bar, but with a bit more of health-consciousness.
Redemption Bar has just opened their second venue in London's Shoreditch (the first, in Notting Hill, opened last year), with the tagline "Spoil Yourself Without Spoiling Yourself". Their menu has an impressive spread of deliciously combined drinks (like coco-tinis and an intriguing sounding lettuce spray), to locally sourced and freshly made healthy mains & desserts.
Head to Nottingham's Sobar or The Brink in Liverpool, which both offer a range of mocktails as well as film screenings and live music.
This list in no way exhaustive, and there are many different things all across the country which we would love to hear about it. So go out there, and have a cracking good time, and come back with more suggestions on Top Nights Out That Don't Involve Booze!