Tea Based Drinks
I know, it's another tea article. But if you don't want to drink, we strongly recommend getting really, really into tea. Today it is all very simple, these are some tea based drinks you can go out and buy, no brewing required.
Mangajo
You can find stockists here or buy at Waitrose, Ocado and Budgens £1.35 for 250ml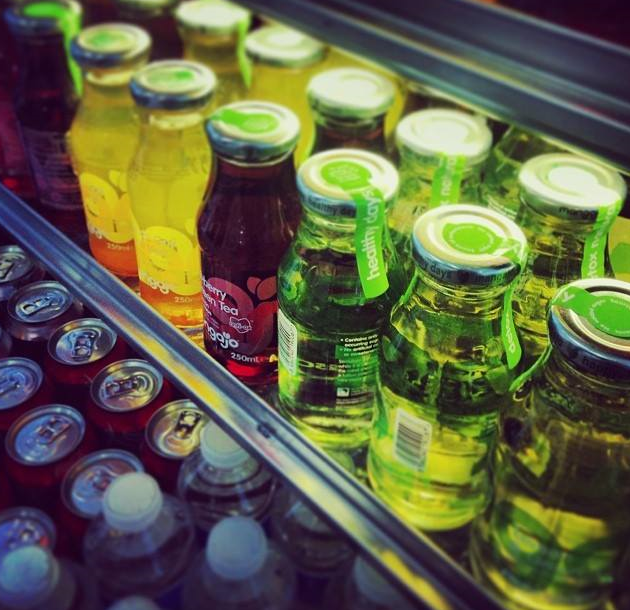 Mangajo do a range of natural iced teas with no added sugar and using fresh juices to add flavour. Most of their drinks are made with green tea but there is a caffeine free Red Grape and Rooibus. Other flavours include classics like green tea and lemon and superfood combinations like Acai, Blueberry and Green Tea. Despite that no added sugar there's 320Kcal per 250ml bottle which is pretty much the same as a jam doughnut. Apple extract might be responsible for that. Unsurprisingly they taste fairly sweet, the green tea and lemon is pleasant if not particularly teaish.
Tg
Available from Tree of Life and The Health Store as well as through their online store. £1.69 for 330m
These iced green teas with ginseng are significantly lower in calories than the Manhajo teas, at just 30 calories per bottle. They are also free from artificial colours, flavours, or preservatives, and available in three refreshingly delicious blends: Green Tea with Ginseng,  Green Tea with Mandarin & Ginseng,  Green Tea with Jujube & Ginseng. They are sweetened with a little sugar and stevia, which makes them naturally light. The citrus edge of the Green Tea with Mandarin and Ginseng is particularly good.
Modo
Available online £14.95 for 6 bottles. 
Modo is a cold pressed matcha based drink mixed with raw fruit juices to make a refreshing drink. Matcha is a powdered Japanese green tea known for it's high levels of antioxidants and also for it's high levels of theanine, which combine with the caffeine present in tea for a natural boost to energy levels and concentration. Cold pressing the juices retains more of their nutrients and also means the flavor isn't altered by heat, so they have a crisp refreshing taste. If you like matcha then you should try the lemon flavour, if you're less of a fan of green tea you might prefer the sweeter pineapple option.
Charitea Mate
Available from Google Campus, cafes in London, or online, £2.00.
I thought I was done with this section but then I found this in the Google Campus cafe. It's fair trade; made with organic mate and black tea, agave syrup and orange and lemon juice. It's also slightly sparkling, it kind of tastes like a cross between flat coke and ice tea. I don't know if that sounds good to you but it was pretty decent. Would drink again. As well as the mate there are red, green and black varieties.